产 品 质 量 保 证
Product quality assurance
服务与支持
Service for support
微笑服务Smiling service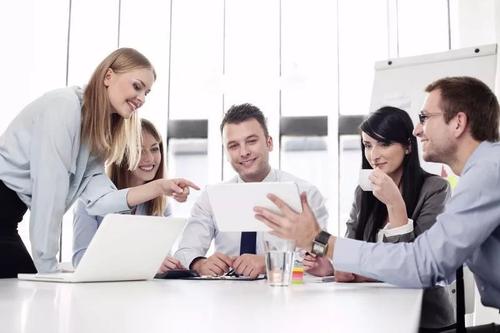 专心倾听be all ears
调试安装Debugging and installation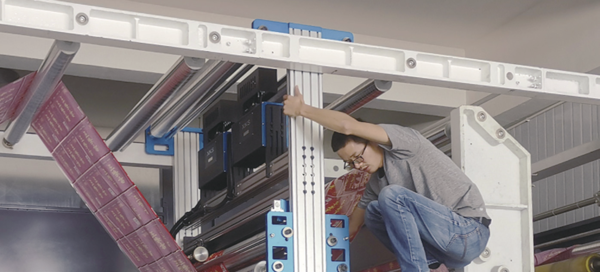 系统核心器件与集成电路均选用进口或国产一线品牌厂家产品。所有电子电路板均经过三防处理,可防潮湿、防霉菌、防盐雾,适合在恶劣工业环境下长期运行。所有接插件均选用一线品牌厂家产品,插头插座均配套选型,不常插拔的均滴胶加固,保证系统运行稳定可靠。
我司每年100余套高速在线可变码检测系统的销售和投运,说明了我司产品的稳定与可靠。
科赛特别注重产品的稳定性、耐用性和方便性。如果您使用过科赛公司其他产品,如套色系统、静止画面图像监控系统、印刷在线质检系统、LED频闪仪等,就可以发现,我司产品一直追求行业客户安装维护方便、使用简单,易学易懂,还可以极大地减轻客户操作人员流动而带来的不便。
The core components and integrated circuits of the system are imported or domestic first-line brand products. All electronic circuit boards are treated with three proofs, which can prevent moisture, mold and salt fog, and are suitable for long-term operation in harsh industrial environment. All the connectors are made by the first-line brand manufacturers, the plug and socket are matched, and the infrequent ones are reinforced with glue to ensure the stable and reliable operation of the system.
Our annual sales and operation of more than 100 sets of high-speed online variable code detection system show the stability and reliability of our products.

Cosai pays special attention to the stability, durability and convenience of products. If you have used other products of cosai company, such as color registration system, still image monitoring system, printing online quality inspection system, led stroboscope, etc., you can find that our products have been pursuing the convenience of installation and maintenance, easy to use, easy to learn and understand, and can greatly reduce the inconvenience caused by the flow of customer operators.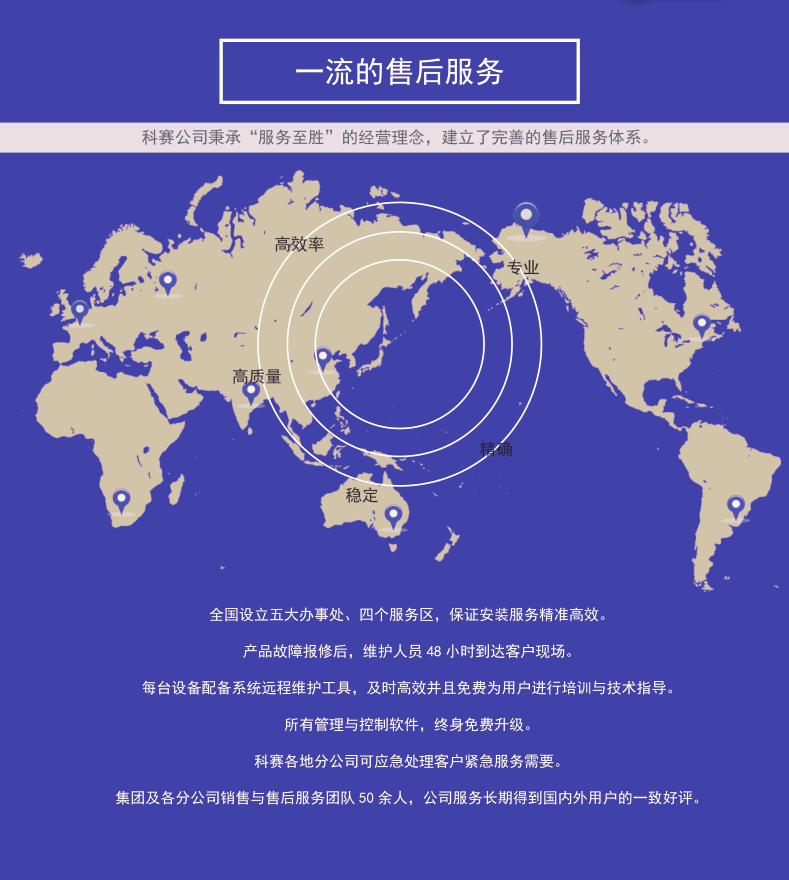 系统核心部件如智能检测相机、工控机或图像服务器、光源驱动器等,均须经过温度试验、震动试验和7 ⅹ 24 小时运行烤机测试,通过后方可使用。每套质检系统整机,均须进行功能测试、耐压检验、干扰试验、AC 电源拉偏试验、通电测试,及 3 ⅹ 24 小时运行试验通过方可出厂。保证产品在客户现场使用稳定,用得放心、维护次数最少。

The core components of the system, such as intelligent detection camera, industrial computer or image server, light source driver, etc., can only be used after passing the temperature test, vibration test and 7 x 24-hour operation toaster test. Each set of quality inspection system must carry out function test, withstand voltage test, interference test, AC power pull off test, power on test, and 3 x 24-hour operation test before leaving the factory. Ensure that the product is used stably at the customer's site, with the least number of maintenance.
科赛公司秉承"产品质量优先、服务取胜"的宗旨,已建立有完善的售后服务体系,包括:科赛在国内各印刷基地和印刷机制造基地均设有售后办事处,有浙江温州、江苏江阴、广东广州、河北石家庄、福建晋江、山东济南、四川成都、辽宁沈阳、安徽桐城等多个。外地分公司可应急处理客户紧急服务需要。科赛目前经营印刷软包装全系列自动化产品,集团加各分公司销售与售后服务团队近50人,公司服务长期得到国内外用户的一致好评。科赛一直实行产品故障报修后,48 小时维护人员到达客户现场的承偌。科赛新推出的系统类产品,多配备方便的远程维护工具,可进一步提高产品修复、客户培训与技术指导的及时性。集团公司市场部按月核查并通报各公司、各产品线售后服务状况,可持续改进服务质量,提高服务水平。
Adhering to the tenet of "giving priority to product quality and winning service", cosai has established a perfect after-sales service system, including:
Cosai has set up after-sales offices in all printing bases and press manufacturing bases in China, including Wenzhou, Zhejiang, Jiangyin, Jiangsu, Guangzhou, Guangdong, Shijiazhuang, Hebei, Jinjiang, Fujian, Jinan, Shandong, Chengdu, Liaoning, Shenyang, Tongcheng, Anhui, etc.Foreign branches can deal with customers' emergency service needs.Cosai currently operates a full range of printing flexible packaging automation products, with nearly 50 sales and after-sales service teams of the group and its branches. The company's service has been well received by users at home and abroad for a long time.Cosai has been carrying out the commitment that the maintenance personnel arrive at the customer's site 48 hours after the product fault is reported for repair.Cosai's new system products are equipped with convenient remote maintenance tools, which can further improve the timeliness of product repair, customer training and technical guidance.The marketing department of the group company checks and reports the after-sales service status of each company and each product line on a monthly basis, so as to continuously improve the service quality and improve the service level.