科赛缺陷离线剔除控制系统由高速品检机平台、离线剔控制柜及互联电缆线组成。品检平台可以是各种品牌的复卷设备,并安装上指定规格的光电编码器和色标传感器。控制柜内置有工控主机、IO 控制器、交流隔离变压器等部件,外置有单台显示器、键鼠套件、声光报警器、总电源开关、主机软开关等设备。科赛离线剔控制系统有功能全、应用范围广、组网灵活、硬件集成度高、缺陷定位准确、运行稳定可靠等特点。
Cosai defect off-line elimination control system is composed of high-speed inspection machine platform, off-line elimination control cabinet and interconnection cable. The quality inspection platform can be rewinding equipment of various brands, and be installed with photoelectric encoder and color code sensor of specified specifications. The control cabinet is built-in with industrial control host, IO controller, AC isolation transformer and other components, and external with single display, keyboard and mouse kit, sound and light alarm, main power switch, host soft switch and other equipment. Cosai offline control system has the characteristics of full function, wide application range, flexible networking, high hardware integration, accurate defect location, stable and reliable operation.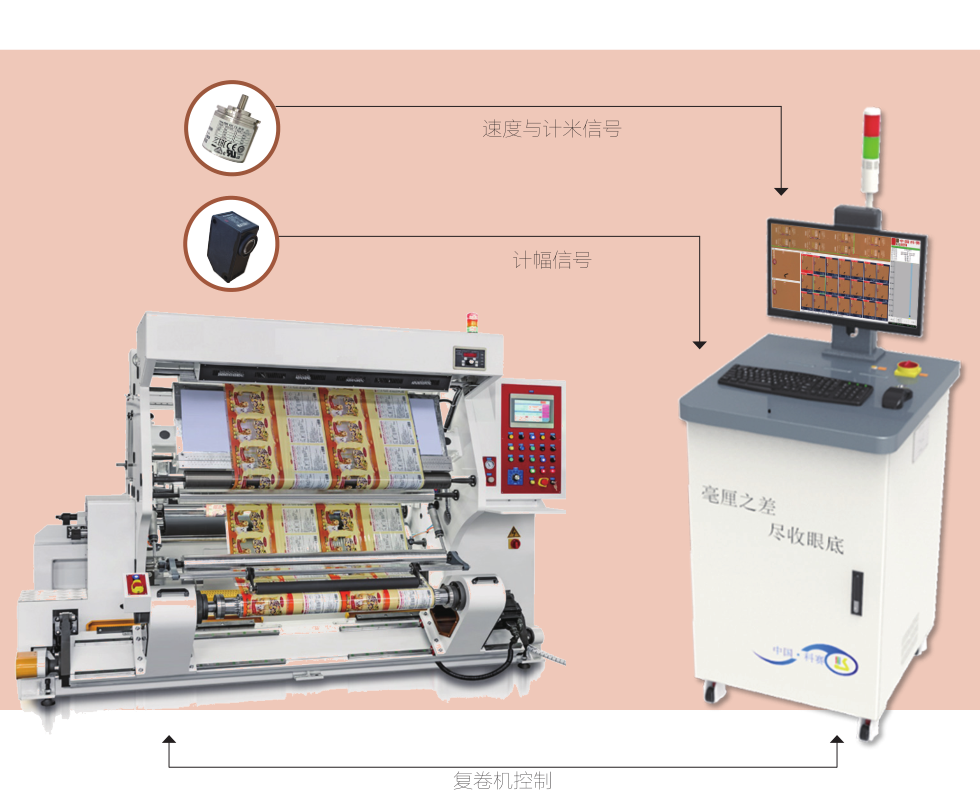 离线剔通用软件界面
OFFLINE GENERIC SOFTWARE INTERFAC
科赛离线剔控制软件界面由标准图、缺陷墙、缺陷对比图、料程分布图、操作区、统计参数区等组成。显示区全幅显示模板标准图。缺陷墙分页显示全部缺陷图,每个缺陷图中列出缺陷类型、尺寸、灰度值及位置。点击查看某缺陷时,软件会在标准图上标明缺陷区位,会在料程分布图高亮,会在对比区放大显示。统计参数区列出复卷平台类别、检测记录时间、良品率与废品率等参数。操作区设有记录读取与保存、缺陷编辑、控制踢废等多种命令。科赛离线剔软件统一性好、具有单屏显示缺陷多、缺陷筛选功能强、实时显示缺陷定位与总体踢废进展、操作简单方便易掌握等特点。
The interface of cosai off-line picking control software is composed of standard drawing, defect wall, defect comparison drawing, material distribution drawing, operation area and statistical parameter area. The standard drawing of the template is displayed in the whole display area. The defect wall displays all defect images by page, and the defect type, size, gray value and location are listed in each defect image. When you click to view a defect, the software will mark the defect location on the standard drawing, highlight it in the material distribution diagram, and enlarge it in the comparison area. The statistical parameter area lists the type of rewinding platform, test record time, yield and scrap rate and other parameters. There are many commands in the operation area, such as record reading and saving, defect editing, control kicking, etc. Cosai offline culling software has many advantages, such as good uniformity, single screen display with many defects, strong defect screening function, real-time display of defect positioning and overall progress, simple and easy operation.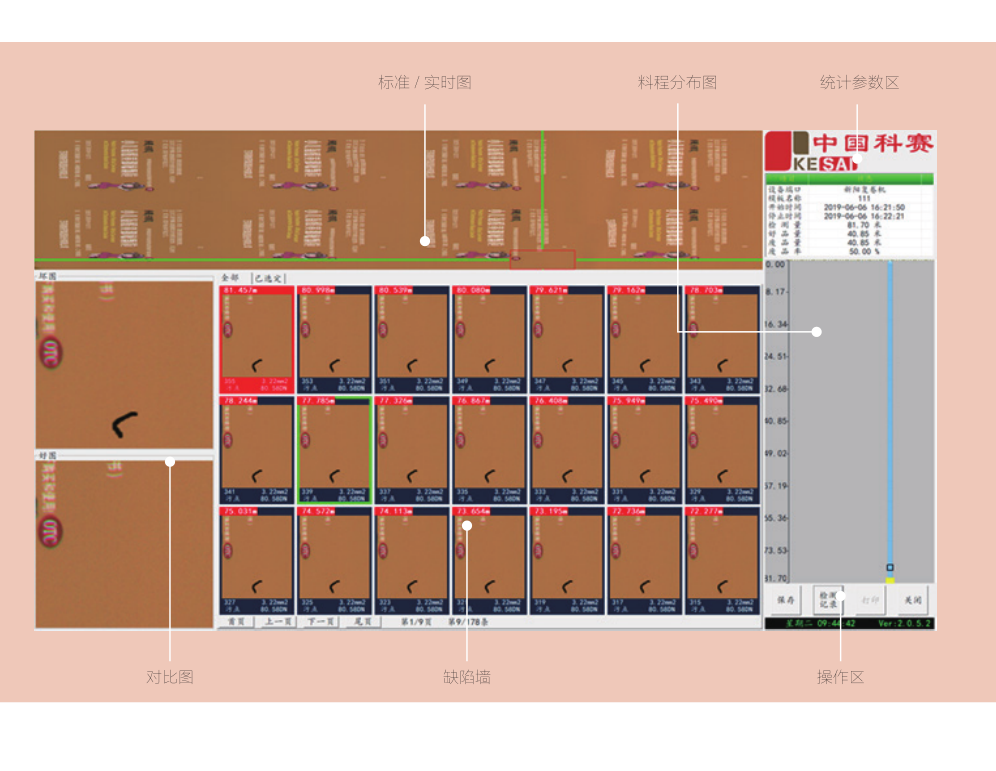 01 少对一方案
适用于少于 5 台在线质检与离线质检的印刷企业或印刷产线
01 less to one plan
It is suitable for printing enterprises or production lines with less than 5 online quality inspection and offline quality inspection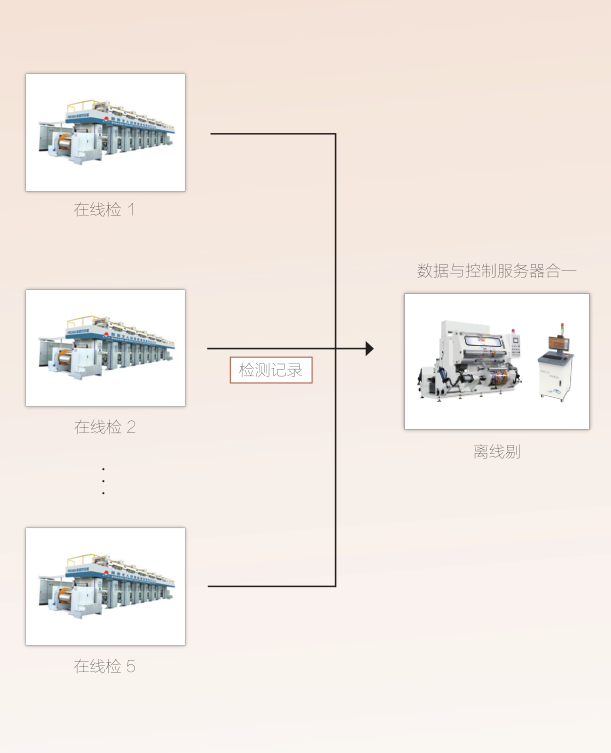 02 多对一方案
适用于有较多台在线质检与离线质检的印刷企业或印刷产线。品管岗可独立或由检测操作工兼任
02 many to one solution

It is suitable for printing enterprises or production lines with more online quality inspection and offline quality inspection. The quality control post can be held independently or concurrently by the testing operator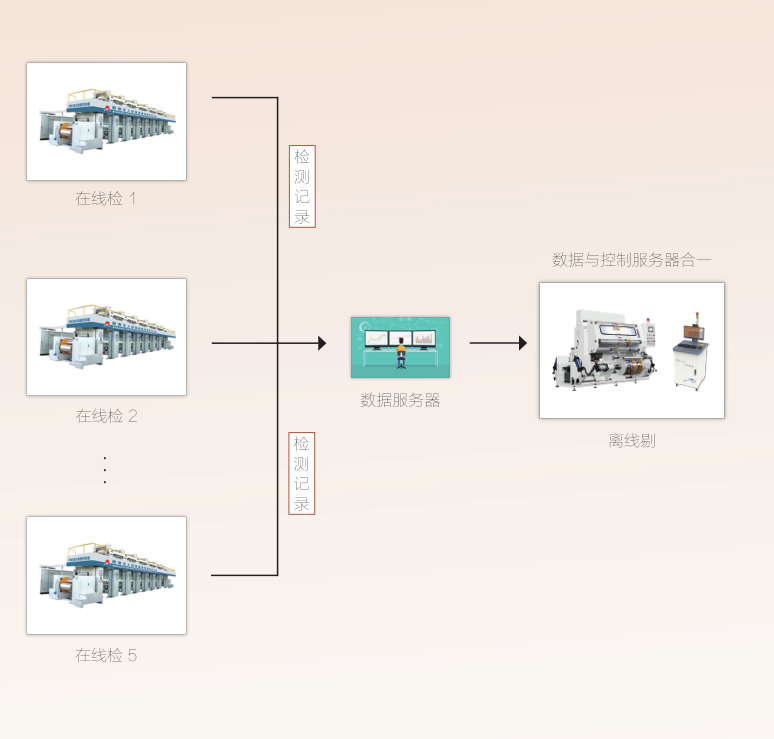 03多对多方案
适用于多在线质检和离线质检数量较多、产量较大、质控要求较高的印刷企业和印刷产线,品管可独立设单岗和多岗。
03 many to many solutions
It is suitable for printing enterprises and production lines with large number of online and offline quality inspection, large output and high quality control requirements. Quality control can set up single post and multiple posts independently.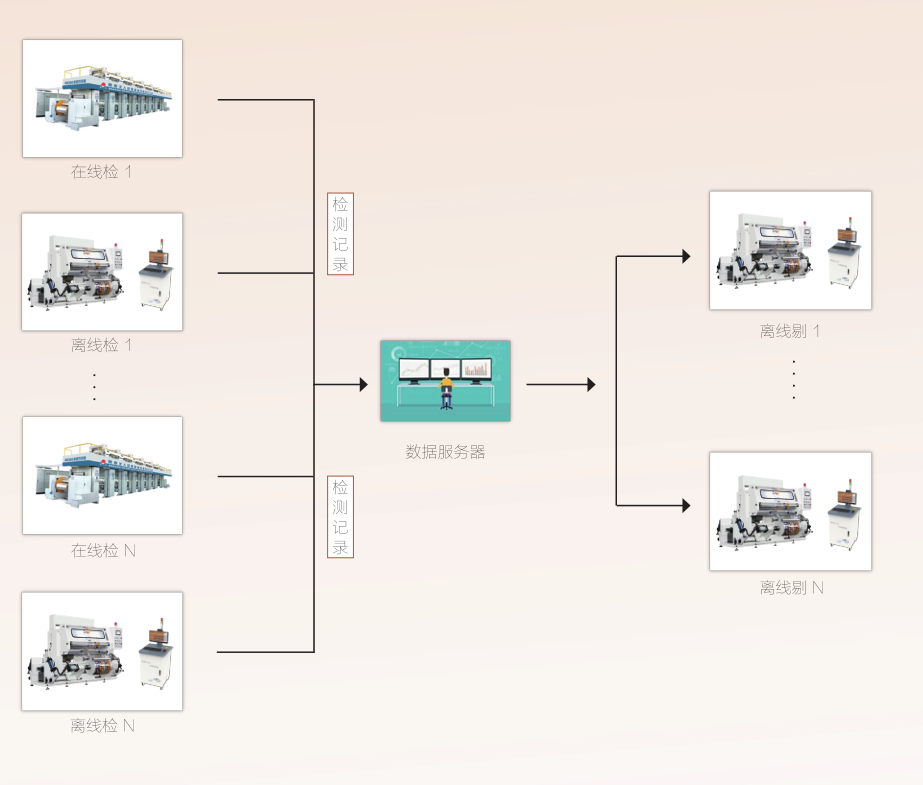 04 离线剔操作界面

04 offline operation interface